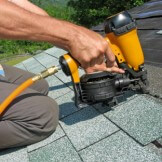 Your Newmarket Roofers
Roof Pro Plus has expanded the business to Newmarket, Ontario, due to the generous recommendations our happy customers have given us to their friends and family members. Thankful for these referrals, we at Roof Pro Plus do everything we can to affirm that each of our new and returning customers has made the best choice in trusting our professional and talented team of roofing experts.
How We Roof
Our partnership with you will begin when you either fill out an online quote request or give us a call. We will then arrange a time to have our Newmarket Professional Roofing estimator to write up a comprehensive roof replacement estimate for your property based on the square footage, pitch, flashings, and your choice of shingles. Our Newmarket roofers will then prepare for your project by shielding vegetation and other fragile elements from possible damage.
Our Newmarket Service Includes: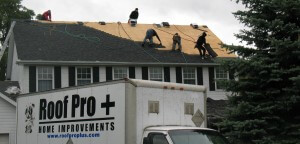 Removal of old roofing in order to accomplish a clean, quality new installation
Installation of special felt paper that becomes an added barrier for water (ice and water shield)
Addition of winter guard paper in order to minimize ice damming
Installation of new flashing in areas most likely to leak
New roofing layer installation
Worksite cleanup
Certificate of our Workmanship Guarantee
Enhance The Exterior Beauty Of Your Newmarket Home
At Roof Pro Plus, we use durable, reliable, and high-quality Owens Corning Shingles – which receive their rich color from a blend of colored granules. Using the colors of these granules, you can coordinate all of your home's exterior elements – the paint, siding, brick or stone. By choosing Roof Pro Plus, you'll see first-hand the influence that Duration® Series Shingles Designer Colors Collection can make on your home's aesthetics and perceived value.
You can rest assured; our Newmarket Roof Pro Plus roofing team members are all Fall Arrest Trained , experienced, and always professional. Give us a call today to learn more about our unmatched Newmarket roofing services – 1-888-677-7757.
Testimonials
---
We had Roof Pro + first do a small job to install a vent, which they competently did for a very reasonable amount. Later we contracted them to replace the whole roof with 50 year Corning shingles which includes an underlayment. They fixed at no additional cost a poorly installed bathroom vent ducting and replaced a few roof boards. The roof looks great and we have had no issues with leaks. Communication was good. Clean up excellent. The only issue is they did not complete the installation in one day due to insufficient roof tiles. I have no reservations recommending Roof Pro Plus.
This company is cost effective,quick,and reliable. They did a great job,I would reccommend them with no question. The roof looks good, and they cleaned up after themselves. Frank helped picked out the colour and style his remarks were bang on.
My neighbour referred me to Roof Pro + and Frank came out and spent over TWO hours measuring and making suggestions on how to fix our front porch area which was poorly designed and leaking. Even before I had the chance to ask him to also look at a couple of small sheds in our backyard he saw they needed to be repaired as well. His crew just finished our roof on last Friday and they knew Thursday afternoon that we were in for some rain that night and the guys stayed late making sure we were not going to have any issues overnight with weather. Back again early Friday and they finished before the snow came that night. Hard workers, cleaned up the area beautifully and a pleasure to be around. To date we've had all the repairs done and the new shingles. Now we're about to get our new eaves and I can't wait. I rate them a 10 because of the quality of work done. I HIGHLY RECOMMEND ROOF PRO+ to all homeowners.
This company were a pleasure to work with – they were there when they promised to be – they did some work before the actual project to protect us – the work was done efficiently. The crew were prompt, polite and very tidy. Neil was efficient when estimating, planning and overseeing the work. I would certainly recommend this company.
An excellent company to deal with – very thorough and professional -excellent team work. High quality work from beginning to end. I was very impressed with the personal touch as well, especially several onsite inspections by the owner and his care for his workers
Very pleased with the quality of work Roof Pro + Home Improvements provided. The work was done promptly, and on time. The crew paid close attention to even the smallest detail. They took great care in cleaning our property during, and after the job was finished. I would have no hesitation recomending Roof Pro + to anyone, infact I recomended them my neighbours, and they are scheduled to have Roof Pro + re-roof their home next week. Thanks Roof Pro + Home Improvements for a job well done