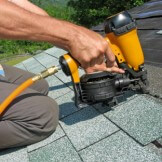 Roof Pro Plus Home Improvements South is a family-owned business that was established in 1978 and quickly became the leader in Newmarket roofing. We pride ourselves on our excellent workmanship, outstanding attention to detail and comprehensive customer service. 
We use only high-quality roofing products and provide a 10-year guaranteed workmanship warranty on our work. The next time you need a roofing contractor, you can trust Roof Pro Plus Home Improvements South, whether you live in Newmarket or any of the York, Simcoe, Durham and Muskoka Regions.
A History of Success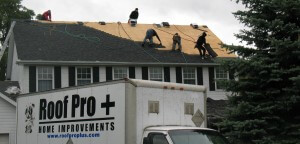 Newmarket and its surrounding areas have many high-quality roofs installed or repaired by Roof Pro Plus Home Improvements South, serving as a testament to our commitment to our customers.
Over the years, our fully-insured and trusted company has provided top-quality services to meet a wide range of needs in roofing. Newmarket counts many satisfied customers, but our company's high-quality work is also on display in a variety of regions throughout Southern Ontario.
Residential and Commercial Roofers
From new roofs to emergency repairs to skylight installation, your search for a residential roofing contractor begins and ends with Roof Pro Plus Home Improvements South.
Newmarket and its surrounding areas rely on Roof Pro Plus Home Improvements South for a full suite of roofing services that provides all the roofing services people need for their homes and businesses.
For residential services, whether it is a new construction nearing completion, a recently built house in need of minor repairs or a house that has been in your family for generations in need of a new roof, our team of qualified roofing contractors will treat your home with care. 
For commercial roofing, we understand that your livelihood depends on your business being able to operate in an environment of safety and stability. We specialize in the latest flat roofing techniques and use the best materials on the market to provide our clients in commercial and industrial spaces with optimal roofing solutions.
The Importance of Roofing
Roofing problems can put the entire structure it covers at risk. Over time, exposure to the elements undermines the structural integrity of your roof. 
And while many people underestimate the resulting risks to their property, whether for their home or business, if they neglect your roof then they make themselves vulnerable to a host of problems such as leaks, corrosion or water damage, potentially exposing their homes or businesses to catastrophic damage.
It is important to note as well that a leaky roof is more than just an eyesore. The health risks presented by mold accumulation are significant, and a deteriorating roof can cause property values to plummet. 
Luckily, these problems are preventable. By investing in your roofing now, you can save yourself some huge costs and potential health hazards. When you take care of your roof, you're also taking care of what's most important – your home and your business.
Request a Free Quote
We understand that homeowners want to do their due diligence before hiring contractors, especially for work as important as roofing repairs or installation. In order to help them through the process, Roof Pro Plus Home Improvements South will provide a free quote at no obligation for anyone looking to maintain, repair or upgrade their roofing.
For residents of Newmarket and throughout the York, Simcoe, Durham and Muskoka Regions, roofing services are only a few keystrokes away. 
Click here to start the process with a free quote!
Shingle Warranty (40 year Ltd. Lifetime)
Roof Pro Plus Home Improvements South has over two decades of experience in the Greater Toronto Area, including Newmarket and across the York, Simcoe, Durham Regions and recently in the Region of Muskoka. Roofing provided by our company is made to last. In addition to our 10-year written workmanship warranty, our materials are backed up by one of the best manufacturer's warranty in the industry.  Ask us about our 50 year non Prorated Warranty!
As one of the first roofing companies in Ontario to obtain the Owens Corning Preferred Contractor Certificate, roofing customers benefit from the Owens Corning Preferred Protection Limited Warranty. 
For a roofing company that uses only high-quality materials and provides service that is second to none, trust Roof Pro Plus Home Improvements South.
Choose Roof Plus Pro
With over two decades of experience in the Newmarket roofing market, Roof Pro Plus Home Improvements South is fully insured and provides a 10-year guaranteed workmanship warranty. Our experienced and talented team can handle residential roofing projects of all sizes, as well as commercial roofing.
Roof Pro Plus offers a FREE roofing inspection service at NO obligation, so you can make informed decisions about how to address whatever roofing issues you might be facing.
Testimonials
---
We had Roof Pro + first do a small job to install a vent, which they competently did for a very reasonable amount. Later we contracted them to replace the whole roof with 50 year Corning shingles which includes an underlayment. They fixed at no additional cost a poorly installed bathroom vent ducting and replaced a few roof boards. The roof looks great and we have had no issues with leaks. Communication was good. Clean up excellent. The only issue is they did not complete the installation in one day due to insufficient roof tiles. I have no reservations recommending Roof Pro Plus.
This company is cost effective,quick,and reliable. They did a great job,I would reccommend them with no question. The roof looks good, and they cleaned up after themselves. Frank helped picked out the colour and style his remarks were bang on.
My neighbour referred me to Roof Pro + and Frank came out and spent over TWO hours measuring and making suggestions on how to fix our front porch area which was poorly designed and leaking. Even before I had the chance to ask him to also look at a couple of small sheds in our backyard he saw they needed to be repaired as well. His crew just finished our roof on last Friday and they knew Thursday afternoon that we were in for some rain that night and the guys stayed late making sure we were not going to have any issues overnight with weather. Back again early Friday and they finished before the snow came that night. Hard workers, cleaned up the area beautifully and a pleasure to be around. To date we've had all the repairs done and the new shingles. Now we're about to get our new eaves and I can't wait. I rate them a 10 because of the quality of work done. I HIGHLY RECOMMEND ROOF PRO+ to all homeowners.
This company were a pleasure to work with – they were there when they promised to be – they did some work before the actual project to protect us – the work was done efficiently. The crew were prompt, polite and very tidy. Neil was efficient when estimating, planning and overseeing the work. I would certainly recommend this company.
An excellent company to deal with – very thorough and professional -excellent team work. High quality work from beginning to end. I was very impressed with the personal touch as well, especially several onsite inspections by the owner and his care for his workers
Very pleased with the quality of work Roof Pro + Home Improvements provided. The work was done promptly, and on time. The crew paid close attention to even the smallest detail. They took great care in cleaning our property during, and after the job was finished. I would have no hesitation recomending Roof Pro + to anyone, infact I recomended them my neighbours, and they are scheduled to have Roof Pro + re-roof their home next week. Thanks Roof Pro + Home Improvements for a job well done