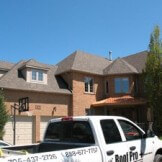 Your Trusted Markham Roofers
Roof Pro Plus works throughout the GTA and Markham – offering the best in products, and the most comprehensive and professional roofing service. We know that you have a lot of Markham roofing contractors to choose from, which is why we stay true to our word when we say – "we're the best". What makes us the leading roofers in Markham?
Our Responsive Service
As soon as we hear from you, we'll arrange for a time to have our Markham Professional Roofing estimator come out and survey your roof. Once the estimate is completed and approved, we'll get started on your project as soon as possible.
Our Expert Advice
Unsure what colour shingles to choose or what type of repair you're in need of? Our experts are more than happy to offer their suggestions based on years of experience in the business. We'll be sure to provide you with service and products unique to your needs.
Roof Pro Plus Home Improvements South Roofing Workflow
Roof Pro Plus Home Improvements South Roofers will first receive your online quote request or take your call. We then arrange a time to have our Markham Professional Roofing estimator to write up a detailed roof replacement estimate for your Markham property based on the sq footage, pitch, flashings, and your choice of shingles (or our suggested).
Remove old roofing
Install added barriers for water (ice and water shield)
Add winter guard paper to minimize ice damming
Install new flashing in areas most likely to leak
Lay down new roofing
Cleanup the worksite
Our Roofing Standards
Roof Pro Plus uses top quality, stunning, and durable Owens Corning Shingles on each of our projects. Lastly, our entire Markham roofing team is all Fall Arrest Trained and therefore equipped to provide the safest roof-installation experience to each of their customers.
Testimonials
---
I would recommend Roof Pro to anyone needing to have a roof replacement. Dean was great in explaining all my options and costs and reviewed the venting requirements for my house. The crew arrived exactly on time and cleaned the yard when the job was completed. Except for the beautiful new black roof, you'd never know they had been there. Thank you to the ladies in the office, too!
I've used roof pro 2 before and asked Frank to quote me for a Toronto address. He made the long trip from Newmarket arriving promptly despite heavy traffic. The job was small and Frank was very honest saying it would be better to hire locally but telling me what the price should be. Such honesty with previous excellent work.
Roof Pro just finished re-doing our roof and they were a pleasure to deal with. 13 years ago I had the roof of our house done with IKO shingles shortly after moving in. These shingles had a 25 year warranty but lasted only 13 years before falling apart. When I pursued my warranty I was offered about $650 worth of product. No labour and no damages. When I contacted Roof Pro, they were quick to respond and informed me of more than a few shortcomings in the previous work. Their quote was more detailed, contained considerably more benefits, offered a much better materials and came in at a much better price. A great experience all the way around. Highly reccomended!
First knowledge through excellent website which described our issues.Work included full roof on home bungalow and flat roof on attached garage; new eavestrough with leaf-guard protection.Frank came at my request, reviewed areas requiring repair provided comprehensive assessment and answered both my wife's and my questions.He even located area homes with shingle colour and types we were considering, for our comparisson.Exceptional work, exceptional work crews.Chris the owner personally did the flat roof work. Everything handled professionally and cleaned up fully before leaving.Frank returned and corrected a few minor issues.Recommend highly.Everything fully tested since with all the rain and works well.