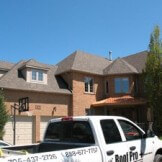 For a roofing project of any scale, you can trust the leading roofing contractors in Markham, Roof Pro Plus, to deliver unrivaled roofing services. For anything from a small roof repair to a complete roof replacement, Markham residents trust our team of roofing contractors to deliver high-quality roofing repair and replacement services.
As a fully-insured and trusted provider of residential and commercial roofing services, our mission is to provide our clients in Markham with reliable roofing services. We use only the highest quality products, and we get the job right the first time.
If you are looking for a commercial or residential roofing company serving the Markham or Richmond Hill area, contact Roof Pro Plus, the leader in Markham roofing services.
Get a Free Estimate
Roofing Solutions for any Situation
As a roofing company with a wide range of services, Roof Pro Plus can tend to any roofing need for your home or business. This is true whether you own a commercial building in need of a new flat roof, or a house that needs soffit, fascia or flashing repairs. 
Roof Pro Plus provides:
Free roofing inspection services and advice

Emergency roofing repairs

Removal of old roofing prior to installations

Skylight installation

Installation of additional water barriers

Addition of winter guard paper

Ice dam removal and prevention

Installation of new flashing in areas prone to leaks

New roofing layer installation

Soffit, fascia or flashing installation and repair

Attic insulation installation

Worksite cleanup
Beautiful Roofing
Roof Pro Plus uses only the best roofing products. In keeping with our commitment to customer satisfaction, we use the most durable shingles on the market, Owens Corning Shingles, to make sure your new roof will look great for years and years. 
Owens Corning Shingles achieve striking results thanks to industry-leading technology that uses a blend of granules to create a broad palette of colours that can be adjusted to fit with the rest of your house's exterior elements. These products can match existing colours for roof repairs and provide a wide range of choices when it comes to installing a new roof.
The Importance of Roof Repair
A neglected roof can lead to all sorts of problems. Especially in the rugged Canadian climate, exposure to the elements leads to wear and tear that eventually gives way to leaks and water damage, which can undermine the structural integrity of your roof. 
Still, most people underestimate the risks a failing roof could pose to their home or business. From plummeting property values to serious health risks, roofing issues lead to a host of serious problems. But they are preventable. 
Preventing roofing problems is the key to avoiding big repairs down the line. Roof Pro Plus has been serving Markham for years, providing roof repairs and roof replacement services when people need them most. And the best part? 
To identify potential roofing issues, Roof Pro Plus offers FREE roofing inspections at NO obligation, so you can make informed decisions about how to address whatever roofing issues you might be facing.
Emergency Services – Roofing Repair
Major weather events, such as with a storm with high winds, can pose serious risks to the roof of your home or business. However, while a large tree branch could come crashing through your roof, opening your home up to the elements, most roofing emergencies result for other reasons, such as:
Broken shingles

Curling shingle edges

Deteriorating flashing
These are just a few of the roofing problems that homeowners probably wouldn't notice at first glance, but qualified roofing contractors would be able to quickly identify as important issues.  
Once a roofing leak becomes obvious, a variety of causes could be to blame, which is why you should call qualified and experienced roofing contractors. Our fully-equipped and highly-trained roofers are dedicated to serving Markham and Richmond Hill residents with quality emergency roofing services
If you are in need of emergency roofing repair service, our experienced Markham roofing contractors will be there when you need them. As Fall Arrest trained professionals, our roofing team will quickly and safely diagnose your roofing problems and make the necessary repairs. 
For emergency roofing repairs and consultation, call us at 1-888-677-7757