Underlayment is the material that is laid above the ice and water shield, directly on the roof deck – to the ridge, prior to installing the shingles. Underlayment acts as a second level of defense to the elements and is ideal for lower pitched roofs and high wind areas. At Roof Pro Plus, we use high-quality Rhino and Deck Defense synthetic underlayment by Owen's Corning to shield each home and commercial building from moisture infiltration.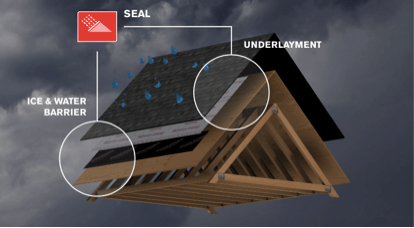 Source: Owens Corning
Synthetic Underlayment

Newer to the market, polypropylene underlayments are making waves in the roofing world. Made of synthetic polymers that reduce the chance of tears, synthetic underlayments are:
12x stronger
Wrinkle-free
Wear resistant
Safer for workers to walk on
Synthetic underlayment also offers better leak protection (as it doesn't absorb water), prevents UV damage for up to 6 months, and it is inert to mold.
Asphalt-Saturated Felt
Also called builder's felt or felt paper, asphalt-saturated felt has been covering roofs for more than 50 years. The felt is made of a paper base that is saturated with asphalt to make it more resistant to the elements.
However, as roofing technologies have advanced, our Roof Pro Plus team highly recommends that our customers consider a more efficient option: synthetic underlayment.
To learn more about underlayment or to book your roofing consultation, call us today at 1-888-677-7757.