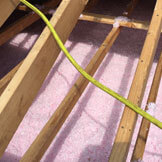 Attic Insulation Removal, Installation & Inspection
Adequate insulation is important for homes around the world, but having the right insulation materials is particularly vital for homes in the Canadian climate. Topping up your attic insulation to R60 (22.25 inches) is the current building code and will help save you up to 27% in heating and cooling costs.
At Roof Pro Plus, our experienced team can tend to all your insulation needs. If you are unsure of the state of your existing insulation, an attic insulation inspection is a wise investment in your future comfort and the energy efficiency of your home.
CALL NOW
The Importance of Proper Insulation
Insulation, including rigid foam insulation or loose fill insulation, keeps heat in during the winter and out during the summer. For homes in Canada, the right combination of attic floor insulation along with proper ventilation, is essential to maintaining a comfortable and energy efficient home.
Many homeowners are unaware of the importance of both insulation and ventilation in their attics. An uninsulated or poorly ventilated attic can cause a number of problems, including higher energy costs and increased risk of ice dams.
One of the most common places for heat to escape from a home is through the attic space. In winter, warm air rises and escapes through the roof, while in summer, the hot sun beats down on the roof, causing the temperature inside attic spaces to soar. This can result in higher energy bills as your heating and cooling system struggles to maintain a comfortable temperature. Uninsulated or poorly insulated attics can lead to the formation of ice dams, which can damage your roof and create the conditions of air leaks and water leaks. 
Proper ventilation through the use of vents and baffles is crucial to maintaining a healthy and energy-efficient home. Attic vents and baffles allow for a continuous flow of air that regulates the temperature and moisture levels in your attic, reducing the risk of ice dams and mold growth. 
If you have an unfinished attic, insulating your attic is an important step in protecting your home and saving money on energy costs.
Signs That Your Attic May Be Poorly Insulated
During an attic insulation inspection, the Roof Pro Plus will check to see that your soffits are blocked, your attic is properly ventilated, your baffles are installed correctly, and that your roof sheathing is in good state to make sure that your insulation is providing the best value to you, your family, and your home.
The presence of ice dams and ice buildup are often the result of poor insulation, so they are widely recognized as one of the strongest signs that there is an issue with insulation installed in your attic. When heat escapes from the home due to a lack of proper air sealing, it meets the cold air outside and causes snow and ice to melt. This water then flows down the roof and refreezes at the edge, where the temperature is lower. Over time, ice dams can cause serious damage to roofs and exacerbate other problems, such as leaks and mold growth. 
Signs that you might need more insulation in your attic include:
Ice Damming and Ice Build up

Uneven heating and ineffective cooling

Hot inside air in the summer

Moisture in the attic

High energy bills
Attic Insulation Removal
If your attic insulation gets wet or is exposed to excessive humidity, it creates the ideal conditions for mold and mildew growth. Also, insulation that has been packed too tightly into an attic can impede air flow, leading to condensation and the potential for mold growth. If you have had a roof leak, our team will be able to tell you how much insulation needs to be removed and replaced following a quick insulation inspection. Another consideration is severe animal damage within the attic. If animals have taken over your attic space, it may be time to remove insulation along with the animals.
---
Contact Roof Pro Plus for Complete Attic Insulation Top Ups to R60 & Removal Services
Most people don't think about insulation until they experience an issue with their home's heating or cooling. But insulation is actually one of the most important factors in determining your home's energy efficiency. If your insulation is damaged or not up to code, you could be paying more than you need to on your energy bills. That's where our team at Roof Pro Plus comes in. We have extensive experience in both installing baffles, as well as installing and removing insulation, and we can quickly spot the signs of an insulation issue. 
Contact us today to learn more about our attic insulation services or to request an appointment. We'll make sure your home is as energy-efficient as possible – and that you're not spending any more money than you need to on your energy bills.
CALL NOW
Jim came over and gave us a very competitive quote. On the agreed upon day, Josh and Cody arrived. They covered the floors and carpets, blew in the insulation and explained what they were doing. They showed us before and after photos. Cleaned up, made sure we were happy. Would recommend them highly.