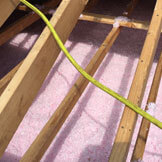 Attic Insulation Service
When it comes to attic insulation service and inspections, our Roof Pro Plus team can check to see that your soffits are blocked, your attic is properly ventilated, your baffles are installed correctly, and that your insulation is providing the best value to you, your family, and your home.
CALL NOW
What Does Insulation Do?
By trapping pockets of air and slowing down the in/out process, insulation helps to keep outdoor air from getting inside your home and helps to keep conditioned indoor air from escaping your home.
Signs That Your Attic May Be Poorly Insulated
Uneven heating and ineffective cooling
Hot inside air in the summer
Moisture in the attic
High energy bills
---
Contact Roof Pro Plus for attic insulation services!
It's a no-brainer. Call or contact us today to learn more about our attic insulation services or to request an appointment!
CALL NOW
Jim came over and gave us a very competitive quote. On the agreed upon day, Josh and Cody arrived. They covered the floors and carpets, blew in the insulation and explained what they were doing. They showed us before and after photos. Cleaned up, made sure we were happy. Would recommend them highly.