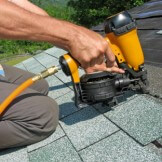 Roof repair is almost always a necessary part in maintaining the life and stability of a home. While replacing an entire roof is not always a viable option or required method, any water intrusion must be prevented right away and the interior of the home must be protected. This is where roof repairs become an attractive approach in getting your roof back to it is best state.
It is important to address any roof ailment as soon as you become aware of it, as the problem will just get bigger and more costly over time. Not only will you end up spending more money in the end but everyone in the home is at a risk while the roof remains unrepaired. A roof in good condition will protect your family from storms and bad weather, water leakage, falling or cracking ceilings, the possibility of mold and mildew and in a worst case scenario, a roof collapsing. The following are some of the many kinds of repair services Roof Pro Plus Home Improvements South can offer to our clients:

Replace Wind "Blown Off" Shingles
Wind and weather can take their toll on your shingles, tearing them out, and getting at your roof underneath! Fortunately, Roof Pro Plus Home Improvements South has got you and your roof covered with superior installation and service.

Replace or Re-seal Metal Flashings
If you're flashing isn't fastened tightly, water and ice could be seeping in and doing damage to your roof! Sometimes flashing needs to be replaced completely, but often it simply needs to be resealed to ensure that your roof is protected.

Attic Re-Insulation
Moderating the internal temperature of your home is often dependent upon insulating your attic appropriately. Let us share with you our experience and do what's needed to keep you comfortable all year around!

Install Ice & Water Shield and Metal Drip Edge at Eaves
When these preventative measures are not implemented correctly water and ice can back up under the drip edge, and can pose a serious threat to your home! Let Roof Pro Plus Home Improvements South take the worry out of it for you.

Install Additional Roof Vents
It is essential for your soffits to remain clear and unobstructed if they are to allow air to freely pass through. With our professionals' skilled eyes, we can situate your roof vents to allow for maximum ventilation of heat and humidity.

Skylights
Homeowners often say that the installation of skylights can be one of the trickiest home renovations to do properly. Have us do them right the first time! No leaks. No worries. No kidding.

High or Low Slope Roofs
These style roofs, due to their shallow angle, and particularly vulnerable to severe ice build-up and long, hard rains. We can create a protection strategy for these roofs by assessing your needs on site and determining what factors pose a threat to your roof.

Install New Downpipes
If we don't install a downpipes and eaves system on your home's roof, you are asking for an eventual mold problem in your home as moisture begins to seep into your walls over the years. If you have trouble with these getting clogged, we have easy solutions for that as well!

Damages Caused by Wildlife
Animals (commonly squirrels and rats) can cause damage to your roof if they can chew their way in through an incorrectly installed piece of flashing or an unprotected roof vent and can cause a lot of damage. Call us now to save money later!

Install New Sheeting Over Roof Deck
Traditionally, roofers refer think of this as an additional drainage layer to repel water that would otherwise seep underneath the shingles and into your roof. Roof Pro Plus Home Improvements South can utilize a variety of materials to best seal your roof deck.

Snow and Ice Removal
We all know that a build-up of snow and ice on a rooftop is not a good thing, but that doesn't make it any less dangerous a job in untrained hands. Many people unknowingly damage their roofs in the process. Let us help!

Eaves Trough Cleaning / Unclog Downpipes
We've inspected too many eaves troughs that had been neglected for too long, and damage to the walls of the house was evident. Don't let this happen to you! Call Roof Pro Plus Home Improvements South today to schedule regular cleaning services.