Your Trusted Muskoka & Gravenhurst Roofing Contractors
At Roof Pro Plus, we specialize in offering quality roofing products and services to the residents of Gravenhurst, Bracebridge, Bala and other District of Muskoka areas. Recognized for our attention to detail and safety precautions, we provide residents with an ideal service to address all their roofing needs. 
Whether you need residential roofing, ranging from a new roof to a roof replacement or simply roof maintenance, we aim to provide you with perfection, making us one of the District of  Muskoka's most dependable roofing businesses. Living on or by the lake should be nothing short of a paradise, so leave all your roofing issues with our experienced roofing experts. 

---
Cottage Aesthetic & Design
Roof Pro Plus provides the District of Muskoka home and cottage owners with long-lasting, reliable, and aesthetically pleasing shingles, metal or  composite roofing products like Davinci RoofScapes  that can survive all four seasons of the scenic Muskoka region. Elevate the beauty of your home with high quality roofing materials to match your stunning surroundings. 
Owens Corning Duration TruDefinition, Algae Resistant, Shingles with SureNail Technology
Owens Corning are one of the leading industry suppliers for versatile shingle design options and are known for their superior moisture and wind warranty protection. As a Owens Corning certified preferred contractor, our valued clients can choose from a variety of stock and designer colours and styles such as TruDefinition  Algae Resistant Duration Shingles  to elevate their homes and match the beauty of the district of Muskoka. 
Owens Corning Shingles are backed by 10-year TruProtection Coverage, and, as with all of our work, customers benefit from our 10-year workmanship warranty. 
Stock Shingle Colours
Designer Shingle Colours
---
DaVinci Roofscapes – Slate & Shake Roofing Materials 
DaVinci roofing materials offer unparalleled protection throughout the year in different climates. They are crafted with an advanced engineered polymer, impregnated with fire retardant and the most advanced UV and thermal stabilisers available. This ensures maximum durability and stability, while only virgin resin is used so that each tile has consistent quality and performance.
Shake Colours
---
Bellaforte Slate Colours
*most cost effective
Multi-Width and Single-width Slate Colours
---
Metal Roofing
Steel roofing is quickly becoming one of the most popular choices for residential and commercial roofing projects. Why? 
Metal roofing has many advantages over other roofing materials, and property owners have learned that a metal roofing installation is one of the best ways to add long-term value to your house or business. 
Metal roofing is stylish and provides long-lasting durability that far exceeds the service life of other types of roofs. Resistant to the elements and highly energy efficient, a metal roof will help lower your utility and insurance bills while protecting your house from our rugged Canadian climate. 
Have Questions About Metal Roofing? Contact Us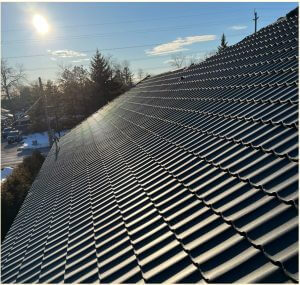 ---
Roofing Inspections in the District of Muskoka & Gravenhurst
Find a solution to your roofing problems, even before it becomes a problem. Get your roofing inspection today and save thousands of dollars in repair, servicing, and damage. 
Our entire roofing team in the District of Muskoka is Working At Heights certified and equipped to provide the safest roofing experience to all our customers. 
Roof Pro Plus – Cottage Roofing Services in the District of Muskoka; Gravenhurst, Kilworthy, Bracebridge and Bala
Roof Pro Plus is a family owned and operated roofing company with over 20 years of roofing experience. Our knowledgeable experts strive to provide Muskoka homeowners with the highest quality roofing services. 
Make your commercial or residential property look its best by calling our highly trained and experienced roofers to provide you and your neighbourhood with a full range of residential and commercial roofing services, including metal roofing, steel roofing, gutter cleaning, flat roof installations, and more. 
Our roofing services and roofing products also include: 
Contact us today at 1-888-677-7757 or give us a visit at 1824 ON-11 Kilworthy, Ontario, P0E 1G0.