While it is common to see many residential structures with a sloping roof, we are seeing many more architectural designs that incorporate Flat roofing on the tops of high pitched sloped roofs.
There are 4 main types of Flat Roofing: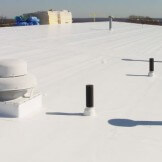 TPO
TPO is a flexible, hot-air welded thermoplastic polyolefin roofing membrane the width of the membrane depends on the manufacturer and usually comes in 100ft lengths. Suitable for a variety of low slope applications, UltraPly TPO features a white, tan, or grey reflective surface that can help reduce a building's cooling requirements. TPO is highly resistant to tears, impacts and punctures with good flexibility to allow for building movement. TPO's are available in white, light gray and black with thicknesses of either 45 mils or 60 mils. TPO membranes are installed fully-adhered, mechanically-attached or ballasted.
EPDM
The EPDM (ethylene propylene diene terpolymer) rubber roofing membrane has been an appealing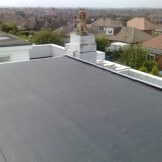 choice of the low-slope roofing industry for years. EPDM is an extremely durable synthetic rubber roofing membrane widely used in low-slope buildings worldwide. Its two primary ingredients, ethylene and propylene, are derived from oil and natural gas. EPDM is available in both black and white, and is sold a broad variety of widths, ranging from 7.5 feet to fifty feet, and in two thicknesses, 45 and 60 mils. EPDM can be installed either fully adhered, mechanically attached or ballasted, with the seams of the roofing system sealed with liquid adhesives or specially formulated tape.  EPDM continues to be a top choice of architects, roof consultants and contractors for both new construction and replacement roofing projects.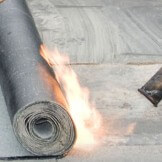 TORCHDOWN
Torch-down systems involve heating the adhesive as the material is unrolled.  Similar to tar and gravel roofing, the torch down roof consists of layers of fiberglass and polyester with bitumen that are added to the regular tar and gravel layering system.  These extra sheets are torched down in the overlap areas during the installation process, using large flame throwing torches that melt the asphalt at the seams to join them together, which is the origin of the name "torch down roofing".  The final result is the vulcanization of a large rubber sheet onto a fiberglass base.  Also called modified bitumen, due to the mixing of asphalt with rubber compounds, torch down roofing provides additional strength and resistance to a flat or low sloped roof.  It is not, however, suited to areas prone to high rainfall or snowfall, and has an average life expectancy of about 15 years.  A torch down roof is also significantly more attractive than a standard tar and gravel roof.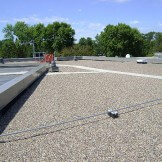 BUR
Built-Up Roof (BUR) The traditional hot-tar-and-gravel roof is built from three or more plies of waterproof material alternated with hot tar and ballasted by a layer of smooth river stone.  Once made of tar paper, these types of roofs gradually are using more-advanced materials such as fiberglass membranes.  Pros: Gravel is an excellent fire retardant.  Attractive for windows and decks that overlook the roof.  It's the cheapest of the four roof varieties.  Cons: Very heavy.  Joists sometimes have to be strengthened.  Smelly and messy to install.  Installation's not recommended for occupied homes.  Roof Pro + does not work with this type of materials
Choose Roofpro+ for your Flat Roofing needs. Get in touch to request your free estimate. Take a look at some recent pictures of a flat roof job that we worked on.