Passive roof vents minimize the temperature differential between the attic and the air outside. In other words, they balance incoming and outgoing air to expel heat and moisture. Incoming air enters through the eaves (intake vents) and rises through the attic where it begins to heat. To ventilate the attic and to prevent moisture build-up, passive roof vents or ridge venting must be installed to allow air to escape (exhaust) through the roof.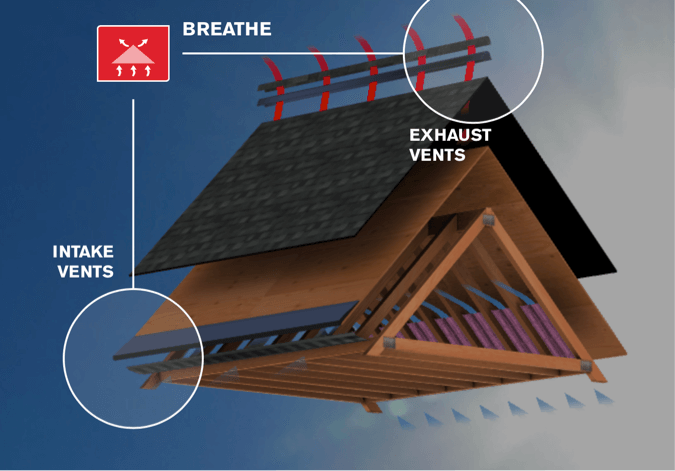 Source: Owens Corning
The top choice of roofers and homeowners, modern passive roof vents provide excellent ventilation solutions for a wide variety of building types. At Roof Pro Plus, we work with the following reliable and durable Duraflo ventilation products:
Square Top Passive Roof Vents

Square top roof vents are attractive, durable, low profile, have excellent UV performance, and are angled to deflect water. With a molded-in screen and a unique design that prevents birds from nesting, these vents will not only serve your ventilation needs, but they'll look sleek and sophisticated on the roof of your home.
Ridge Venting

Ridge vents run along the length of the roof peak, blending into the roofline for a more attractive home. Years of research prove that a ridge vent with external baffles and an internal weather filter, combined with under-eave venting, is the most efficient system you can install. This is a must for any home with cathedral ceilings or lofts where traditional passive venting would not be applicable.
Preventing Moisture with Passive Roof Vents
Proper ventilation will remove moisture and heat from the attic, preventing high energy costs, ice dams, damage to roof system components, and structural and personal damage to items located inside the attic – where temperatures can easily reach 150° F (65° C).
Bathroom & Kitchen Ventilation
Exhaust vents are also crucial in the bathroom and the kitchen, allowing moisture, gas, smoke, and air to ventilate out of your home. At Roof Pro Plus, we use Duraflo collared exhaust vents to accommodate 3" or 4" insulated hoses.
To book your roof vent consultation, call us today at 1-888-677-7757.