We understand that a high performance roof depends on a complete roofing system of accessories and products working together to ensure maximum protection and durability for your home.
Ventilation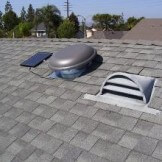 Attic ventilation is an important part of roofing. Proper attic ventilation extends the life of a roof and reduces problems because it minimizes the temperature differential between the attic and the air outside. Proper ventilation will remove moisture and heat from the attic. Trapped heat and moisture can raise energy costs, cause ice dams, and damage roof system components as well as structural and personal items located inside the attic where temperatures can easily reach 150° F (65° C). Condensation that forms inside attics can be caused by the use of washing machines, dish washers, bath tubs, showers, and tumble driers unless these items are properly ventilated through the roof. In some cases the condensation can be bad enough to be mistaken for a roof leak.
To properly ventilate an attic, two types of vents are needed. Intake vents, which are located at the downslope edge of the roof (a.k.a. eaves) and allow fresh air into the attic; and exhaust vents, which are located near or on the ridge line of the roof and allow air to leave the attic. The use of an exhaust vent in conjunction with an intake vent uses the natural forces of wind pressure and thermal effect, collectively known as the Stack Effect, to ventilate the attic space. HINT: Make sure your attic insulation doesn't block the intake vents. If necessary, use baffles to keep the insulation back from it.
We're proud to offer both Duraflow and Ventilation Maximum venting products.

Passive Roof Vents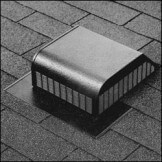 Square Top Roof Vents 50 & 75 Sq. In.
An attractive low profile style
Excellent UV performance
Molded-in screen
Unique angled screen that prevents birds from nesting
Wide, flexible flange which will not crack on installation, even in cold weather
Angled throat to efficiently deflect water
Ridge Venting.
A ridge vent runs the along the length of the roof peak, blending into the roofline for a more attractive home. Years of research prove that a ridge vent with external baffles and an internal weather filter, combined with under-eave venting, is the most efficient system you can install. This is a must for any home with cathedral ceilings or lofts where traditional passive venting would not be applicable.
Wind Turbine Vents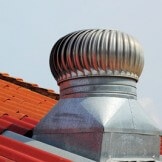 A non-electric alternative to ventilation, these vents use the natural force of wind and air pressure to spin and vent out stale attic air. They do it with a series of specially shaped vanes that catch the wind and provide rotary motion. This pulls hot, humid air from the attic. Turbine vents provide a low-cost ventilation alternative in areas where wind speeds of at least 5 mph are typical.
Underlayment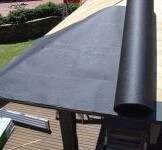 Asphalt-Saturated Felt
Also called builder's felt or felt paper, asphalt-saturated felt has been covering roofs for more than 50 years. The felt is made of a paper base that is impregnated or saturated with asphalt to make it more resistant to the elements. Some papers are actually coated in asphalt, while others are truly saturated. Roofing paper or felt is rolled across a roof deck and stapled or nailed in place. Asphalt felt also tends to trap moisture within the roofing system since it does not breathe.
Synthetic Underlayment
Much newer to the market are the polypropylene underlayments that are making waves in the roofing world. Made of synthetic polymers, the exact composition of these underlayments varies from manufacturer to manufacturer and remains strictly proprietary. These synthetic underlayments are marketed as wrinkle-free, tear resistant, and safer for workers to walk on during installation. Synthetic underlayments are generally more durable than asphalt-saturated felt.
Shingles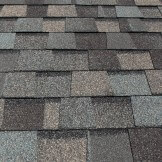 Roof Pro Plus Home Improvements South uses Owens Corning Shingles
Duration Life-time (50yr) Premium Shingles Designer Colors Collection with SureNail Technology. The brilliantly colored granules will add curb appeal and make your home stand out.
130-MPH Wind Resistancy
Duration 30yr shingles with SureNail Technology balance performance with an attractive, well-blended appearance.
110-MPH Wind Resistancy
Oakridge 30yr shingles have a warm, inviting look in popular colors for a step up from traditional three-tab shingles.
70 MPH-Wind Resistancy

Attic Insulation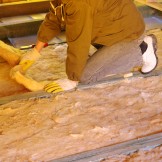 Is your attic costing you money?
Did you know that 7 million homes in Canada do not have enough Attic Insulation? Don't let your hard-earned dollars go through the roof. Insulating your attic is the #1 way to save money on your energy bills. All it takes is a quick measurement and caculation. The best thing to do is have Roof Pro Plus Home Improvements South inspect your attic when we are doing your roof estimate. We'll check the level of insulation you have now, we will inspect for proper installation, i.e. are the soffit areas covered? Is the attic properly ventilated? Are the baffles installed correctly? Building code is now R-40 and it is going up top R-50. For maximum energy efficiency, we recommend an insulation value of R-60 for attic floors – about 18 inches of insulation.
Free estimates….it will save you money….and it's Green.
Benefits of Insulation
Comfort: even temperatures
Energy Savings: up to 28%/yr
Environmental Savings: Insulating to R-50 reduces green house emissions ½ ton per year, year after year
Roof Pro Plus Home Improvements South has partnered with Owens Corning to ensure that we provide our clients with the best insulation products around..
Why Owens Corning?
Owens Corning invented glass fiber and glass fiber insulation over 50 years ago, and the Owens Corning brand and their full line of PINK insulation products have long been synonymous with trusted performance.
Since Owens Corning was founded in 1938, they have been the world's leading innovator of glass fiber technology. In fact, every major advance in glass fiber technology has been the result of Owens Corning research and development
Skylights & Sun Tunnels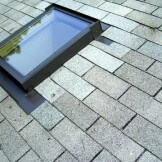 Skylights
We offer a complete system of complimentary products and accessories for any solution from installation right down to the finishing touches. Velux skylight products can enhancing life with the most abundant natural resource — light from above. Please contact us for more information or to receive a quote for a skylight in your home, cottage or garage.
Sun Tunnels
We're proud to offer the new Velux Sun Tunnel skylight – the most innovative skylight in the industry. This new product has a design delivers the most natural light along with easy installation. Please contact us for more information or to receive a quote for a sun tunnel in your home, cottage or garage.
Commercial Skylights
Daylighting through the roofs of commercial buildings provides many benefits that no other light source can offer. With Velux commercial products you can provide optimal light distribution at the building's core while minimizing glare and enhancing your architectural designs. Please contact us for more information or to receive a quote for your business building.