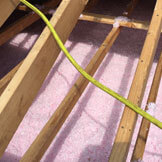 Proper insulation is a very important factor to having a healthy, comfortable home. Not only does insulation keep your home warm in the winter and cool in the summer, it can also help lower your energy bills and prevent mold growth.
What Does Insulation Do?
By trapping pockets of air and slowing down the in/out process, insulation helps to keep outdoor air from getting inside your home and helps to keep conditioned indoor air from escaping your home.
Signs That Your Home May Be Poorly Insulated
Cold floors and walls in the winter
Hot inside air in the summer
Mold growth
Moisture in the attic
High energy bills (A/C & Furnace are constantly running)
Uneven heating
Ineffective cooling
Where to Add Insulation
Unfinished basements and attics are generally the two areas in the home that are lacking when it comes to insulation, and the areas that you should focus on when adding new insulation to your home. Insulation can be added at a very cost effective rate to these areas. You simply add more insulation, demolitions and major renovations are not necessary. Owens Corning Canada, industry leaders when it comes to insulation, recommends using an R-value of 60 in the attic and an 
R-value of 20 in the basement to ensure maximum energy savings and overall comfort.
After the attic and basement are taken care of, it's best to focus on the interior and exterior walls, the floors, and all around the windows and doors. If you are not sure how to properly install insulation, be sure to hire a company like Roof Pro Plus that does… Installing insulation improperly can create major issues in the home.