If you're in need of emergency roofing service, shingle repair, a full roof replacement, or service to improve your attic insulation – it's important to call a roofing company that meets the highest level of roofing standards.
In this article, we explore the five things that you should always look for in a trusted roofing company – to ensure you're not getting ripped off and that the work being done will be done right.
1. Warranty & Insurance
One of the riskiest things you can do when hiring a roofing company is deciding to work with someone who is unlicensed and uninsured. Why? Because if something goes wrong, such as a contractor being injured or your home facing damage, you put yourself at risk of being on the hook for repairs and damages!
Your other largest concern should be roofing warranty. If a company does not offer warranty on their work and the products used, odds are something is not right. Reputable roofers will always offer warranties on their shingles and work – as this is relatively standard across the roofing industry.
At Roof Pro Plus, we're fully insured and possess a guaranteed workmanship warranty of 10 years.
2. Proof of Working at Heights Training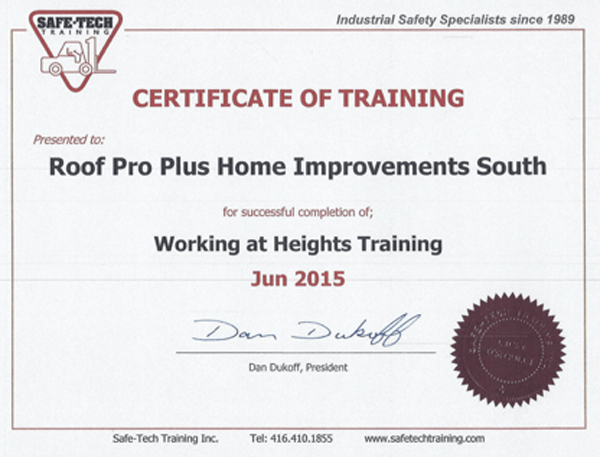 The roofers at Roof Pro Plus are all 'Working at Heights' trained to deliver the safest solutions for their roofing clients. Working with Safe Tech Training, Industrial Safety Specialists since 1989, you can count on us to not only deliver incredible customer service, but to also use all safety precautions to ensure your roof and our team are kept safe.
3. Works with High-Quality Products
A reliable roofing company will offer you a variety of shingle and roofing products that you can pick from. If they do not offer you options in price, colour, or style, they're not looking out for your best interest.
At Roof Pro Plus, we use only the best of the best in roofing products – including shingles, ventilation systems, underlayment, attic insulation, skylights and sun tunnels, and more. Below are just some of the incredible brands and products we stand by:
Did you know?
We were named a 'Preferred Contractor" by renowned roofing material company Owens Corning, based on the following requirements:
Has met the standards set forth by Owens Corning
Is licenced and insured as required by state and local laws
Provides the highest-quality products and customer service
Has been in business two year's under current business name
Has passed the Owens Corning Baseline Installation Test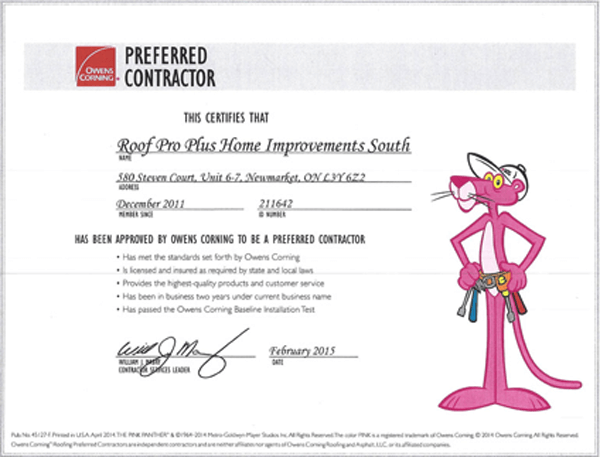 4. Positive Reviews & Testimonials
In the roofing industry, reputation is everything. In fact, most roofers receive the bulk of their business from referrals, and at Roof Pro Plus, we couldn't be more thankful to the clients who have told their friends and family members about our unmatched work.
Roof Pro Plus has over two decades of experience in the GTA and surrounding areas. As proof of our outstanding commitment to our clients, please take a look through some of the very kind testimonials we've received:
"I would like to thank the whole crew from Roof Pro for the great job they did on my roof. My Mansard style roof looks amazing and choice of colour was excellent. Have had quite a few compliments from the neighbours. Excellent price and service. Thank you".
Wendy, Loretto
"We are very happy with the service from Roof Pro Newmarket. We lost some shingles in the recent wind storm and they were able to repair them quickly. They arrived on time and didn't leave any mess behind. Great service, very professional. Would highly recommend them."
Katherine, London
"The work was fast and well done. The workers were polite and did their best to not be in the way. They cleaned up thoroughly after they were done. It's been a year since the new roof was installed and there has not been any problems."
Stephanie, Newmarket
To see more reviews, please visit our Testimonials or HomeStars pages.
5. They Have A Real Office
One of the easiest ways to see if a roofing company is trustworthy and established is to make sure they have a physical location that you can visit. Roofing scammers typically do not have a physical office space and can, therefore, pick up and leave if things go sideways with a client.
Be sure to ask your roofer where their headquarters is located and, if desired, ask to come by to look at their product selection and to meet their team. If the roofer you're talking to is unable to answer this question, we suggest that you end your relationship right there – so you don't get taken advantage of.
Whether you're located in Barrie, Newmarket, Cannington, Orillia, Muskoka, or Uxbridge, our Roof Pro Plus offices are open for you to make an appointment and to come by.
Visit us today at one of our locations:
Roof Pro Plus HQ
Newmarket, ON
580 Steven Court, Unit 6-7
Roof Pro Plus Durham
Cannington, ON
23665b Lake Ridge Road
Roof Pro Plus Muskoka
1824 ON-11
Kilworthy, ON
Local: 905-898-4800
Toll Free: 1-888-677-7757
Daily Hours: Monday – Friday 9am-5pm