Your Expert Ontario Roofers and so Much More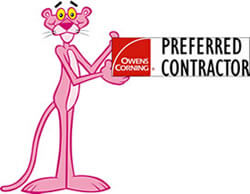 Roof Pro+ has received many honors and awards throughout our long and storied history as the expert roofing specialists of the Ontario area. We take each certification and accolade as a great honor, a tribute to our service for our community, our friends and neighbors. Many new roofing clients take these awards to mean that we are held in high esteem not only by our customers, but by other roofing experts throughout the country as well. Perhaps no award or distinction has meant more to us here at Roof Pro+ than the Owens Corning Preferred Contractor certification.
Awarded to Roof Pro+ in December of 2011, the Owens Corning Preferred Contractor certification is bestowed only upon those who have proven to be absolute experts in the roofing industry, serving their customers and clients safely and reliably for many years. This distinction is only given to the most highly regarded organizations in the roofing business, and is done so by invitation only. We are proud carriers of this high honor, and hold ourselves to the incredibly high standards that this award merits.