Your Expert Ontario Roofers and so Much More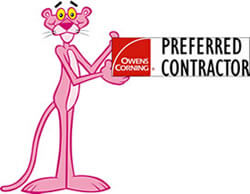 Roof Pro+ has received many honors and awards throughout our long and storied history as the expert roofing specialists of the Ontario area. We take each certification and accolade as a great honor, a tribute to our service for our community, our friends and neighbors. Many new roofing clients take these awards to mean that we are held in high esteem not only by our customers, but by other roofing experts throughout the country as well. Perhaps no award or distinction has meant more to us here at Roof Pro+ than the Owens Corning Preferred Contractor certification.
Awarded to Roof Pro+ in December of 2011, the Owens Corning Preferred Contractor certification is bestowed only upon those who have proven to be absolute experts in the roofing industry, serving their customers and clients safely and reliably for many years. This distinction is only given to the most highly regarded organizations in the roofing business, and is done so by invitation only. We are proud carriers of this high honor, and hold ourselves to the incredibly high standards that this award merits.
In order for Roof Pro+ to become recipients of this prestigious award, we hold high rankings in several online review websites, most notably the Better Business Bureau. Roof Pro+ has also been in business for many years, which helps our trusted and highly regarded reputation within the roofing community. Finally, Roof Pro+ has a deep knowledge of the latest technology and industry standards, putting us on the cutting edge of the modern roofing movement.
However, the most important part of earning this award was the fact that is was done so through a dedication to customer satisfaction, client happiness, and the protection of our Ontario community. No roofing company gains this award without extremely pleased clients, and we want to thank each and every one of you for making Roof Pro+ what we are today.