When it comes to cottage roofing in the Muskoka region, it's critical that owners understand the unique set of challenges they may face. This is especially true for cottagers who only vacation in the summer and do not inspect or check their cottage roofing systems during the cold winter months.
In this article, we outline seven roofing matters that all cottagers should be aware of:
1. Winter Maintenance
If you are a summer-only cottager, odds are that your cottage, shed, and boathouse are unmonitored all winter long. Therefore, it's very important to prepare each roof and structure for fall and winter by: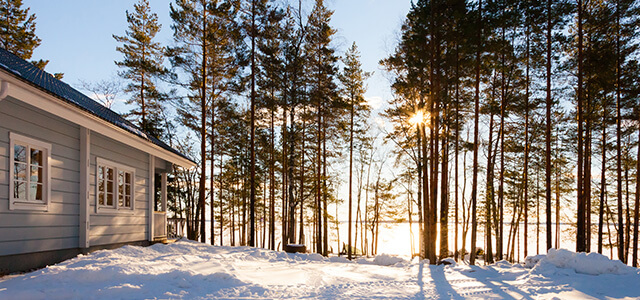 Without thinking ahead about winter, you put yourself at risk of costly damage that can compromise the structure of your summer home – especially if it is an older building.
To learn more about the risks of ice damming, check out our blog article, 'How To Prevent & Eliminate Winter Ice Damming'.
Preventing a problem is key in many aspects of life, especially in roofing. And for cottagers, a roofing inspection can save you thousands of dollars in repair, servicing, and damage – if leaks should ever escalate while you're not around.
At Roof Pro Plus, our complimentary roofing and insulation inspections are of NO cost and NO obligation to our customers. Contact us today at 1-888-677-7757 to learn more.
When it comes to attic insulation and roof ventilation, both systems need to work together to ensure your cottage is as energy efficient and protected as possible. Therefore, it's important to ask that a trusted roofing company like Roof Pro Plus come to evaluate and repair any insulation or ventilation issues your cottage may have.
At Roof Pro Plus, we can drive out to your cottage and examine if your soffits are blocked, if your attic is properly ventilated to reduce moisture and mould, that your baffles are installed correctly, and more!
Please visit our 'Attic Insulation' service page to learn more.
Skylights and sun tunnels are designed to enhance and illuminate your cottage or home. These lighting solutions are particularly useful in spaces that would most benefit from natural light or where artificial lighting cannot be used or accessed. For example, some cottage owners install sunlight in their cottage hallways or enclosed patios.
However, it's important to note that skylights and sun tunnels aren't an ideal solution for areas of your home that are often shaded by large trees. If you do not receive consistent and direct sunlight in that area, your skylight or sun tunnel investment may not be worth it.
But don't worry. At Roof Pro Plus, we'll help to determine if a sun tunnel or skylight will add value to your cottage. If it will not, we'll be honest and tell you – before our installation plans begin.
To learn more, please visit our Skylights & Sun Tunnels page.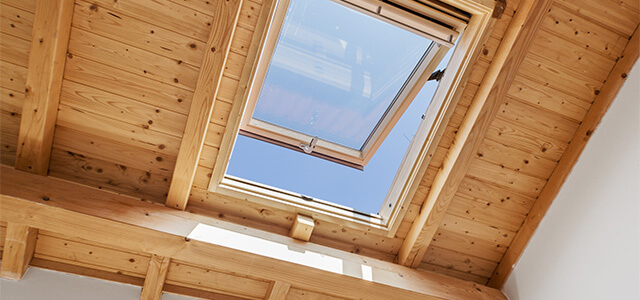 5. Emergency Roofing
The reality is, roofing emergencies happen and can cause costly damage to your cottage. So, its best to always have the number of a local and reliable roofing company close by – just in case you need to make the quick call during a storm or crisis.
However, it's important to remember that the best way to avoid emergency is to proactively prevent issues from ever arising. You can do this through planned roofing inspections and maintenance offered through Roof Pro Plus.
Have a roofing emergency? Call us now 1-888-677-7757
6. Shingle Design & Cottage Aesthetic
All home and cottage owners deserve durable, reliable, and high-quality shingles. And when it comes to your summer Muskoka home, aesthetically pleasing shingles can take the beauty of your cottage to the next level.
At Roof Pro Plus, we work with stunning Owens Corning TruDefinition Duration Shingles and Oakridge Shingles, which come in a variety of standard and designer colours. These shingles have a Limited Lifetime Warranty with 10 Year TruProtection Coverage.

We also work with luxurious Inspire slate shingle products that evoke sophistication and class. Give us a call today to learn more about our cottage roofing shingle products.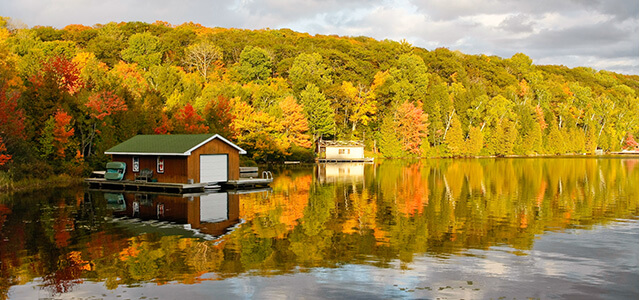 7. Professional Roofing Service
When it comes to roofing, working with a professional and reputable company is a must. We, therefore, suggest that you always look for the following signs that you can trust a roofer:
They have a professional website
They have a physical office location
They have great online reviews
They have a social media page
Their workers are credible and trained
They offer warranties on products and service
They offer FREE inspections
They use high-quality products
---
Contact Roof Pro Plus Today
At Roof Pro Plus, we understand the value of the investment you've made in maintaining a cottage property – which is why we appreciate your business and work as efficiently as possible to ensure your cottage is a stress-free zone.
Here's how we can help:
We can also offer service in Re-Roofing, Ice Damming, Soffit & Eavestroughs, Roofing Inspections, and more to Muskoka cottagers in need of our help.
"We would like to thank you and your crew from Roof Pro on the great job. We have had many people stop by to say how good the new roof looks and the quality job done."
– J. Stevents
Muskoka Location
1824 ON-11
Kilworthy, Ontario
P0E 1G0
Call Us Toll Free at 1-888-677-7757