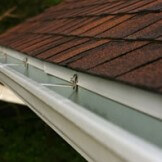 Soffits provide a practical purpose to your home as well as a finished look. A soffit attaches to the outside walls of the home, extending to the fascia boards, covering the undersides of the eves. When the soffits are completed with vents they allow for regular airflow, removing heat from the attic and preventing moisture build up. Removing excess heat is very important as it drastically reduces the chance of mold, mildew and a rotted structure, escaping costly mold remediation and repair costs. Removing the unnecessary heat will ensure less energy is required to cool your home therefore, reducing your monthly utility bill. Additional to the practical purpose, soffits provide an overall appeal and finished look to the roof rafter and patios, while serving as an outdoor ceiling.
In the wet weather, an eavestrough can serve a very important purpose. It acts as a rain gutter collecting carrying the water away from the roof, releasing it at a distance from the foundation, preventing damage.
Roof Pro + system takes into consideration whether or not you live in an area with lots of foliage and if the leaves will block your eavestrough.  Roof  Pro + uses a gutter clean system to prevent the leaves from entering the eavestrough thus preventing any blockages.  You never have to clean your eavestrough again!
Soffit, Fascia and eavestrough come in a variety of materials and colours in order to suit the look and material of your home. With the right selection as eavestrough can become a charming addition to the exterior of your home.
Call or click for a free estimate today and have a Roof Pro+ professional see to your needs.