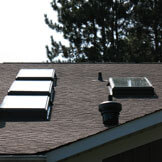 Skylights are a great way to illuminate the interior of a room or structure naturally by using sunlight.
They are particularly useful in spaces where you would like to increase the light quantity, or in an area that does not receive much natural light like a hallway, walk in closets or a room next to a patio or verandah.
Skylights have the dual advantage of being environmentally friendly and esthetically pleasing. They eliminate the need for electrical light use in the day and decrease the need for turning up the heat on the thermostat, resulting in lowering utility bills.
Skylights are made from a high quality, durable material that can be colour coordinated to blend in with the pre-existing colour of your roof. There are three main components of a skylight – the top structure (what you see on the roof), the ceiling frame and panel (which is what you see on the ceiling) and the duct (which connects the ceiling frame and top structure).
It is important to find a reputable and experienced installer that will provide a great product and craftsmanship to ensure the best quality of work.