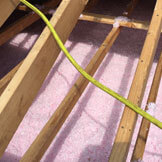 What Does Insulation Do?
By trapping pockets of air and slowing down the in/out process, insulation helps to keep outdoor air from getting inside your home and helps to keep conditioned indoor air from escaping your home.
Attic Insulation Service
When it comes to attic insulation service and inspections, our Roof Pro Plus team can check to see that your soffits are blocked, your attic is properly ventilated, your baffles are installed correctly, and that your insulation is providing the best value to you, your family, and your home.
Signs That Your Attic May Be Poorly Insulated
Uneven heating and ineffective cooling
Hot inside air in the summer
Moisture in the attic
High energy bills
SAVE BIG with GreenON's Attic Insulation Rebate
As outlined by the GreenON rebate, improving insulation can make all the difference when it comes to bettering energy efficiency in your home and reducing the cost of your heating and cooling bills. And as a participating contractor of the Green Ontario Fund initiative to support this "green" mission, Roof Pro Plus can provide the attic insulation services you need to unlock an incredible rebate of up to $1,500*!
Installing "Green" Attic Insulation
The R-value of insulation is determined by the material thickness and how effectively the insulation limits heat transfer. The higher the R-value, the more energy efficient and environmentally friendly your home will be.
As part of the Green Ontario Fund, Ontarians are now eligible to receive $1/ft2 for upgrading their attic insulation to cut drafts, lower energy costs, achieve consistency in temperature, and support the environment.
Working With Roof Pro Plus
Dedicated to the environment and to our clients – we're thrilled to have partnered with GreenON to bring this unique opportunity to you. Leveraging top-notch Owen's Corning PROPINK Fiberglass Blow Insulation, we'll make sure your home is not only ready to take on varying weather conditions but also that you unlock major energy savings while being environmentally conscious.
It's a no-brainer. Contact us today and save up to 27% on heating bills and quality for up to $1500 rebate!
CALL NOW
Act now! This rebate offer will run out!
*Conditions may apply