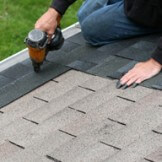 Richmond Hill Roofing Professionals
Our Richmond Hill Roofing crew depends on past customer referrals and we are grateful to them. Roof Pro Plus Home Improvements South works in the GTA and Richmond Hill area, offering the best in products and service. You have a lot of Richmond Hill Roofing Contractors to pick from, and we will do everything we can to assure you that you made the best choice by going with Roof Pro Plus Home Improvements South.
Roof Pro Plus Home Improvements South Roofing Workflow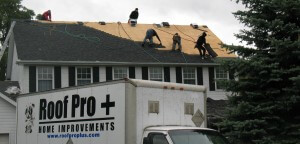 Roof Pro Plus Home Improvements South Roofers will first recieve your online quote request or take your call. We will then find a time to have our Richmond Hill Professional Roofing estimator come out and survey your roof (or use a scaled drawing) to then write up a detailed roof replacement estimate for your Richmond Hill property based on the sq footage, pitch, flashings, and your choice of shingles (or our suggested).
Preparation for re-roofing:
Our Richmond Hill roofers will shield vegetation, and other fragile elements from possible damage
Removal of old roofing in order to accomplish a clean, quality new installation
Installation of special felt paper that becomes an added barrier for water (ice and water shield)
Addition of winter guard paper in order to minimize ice dam build up during winter season (ice dams can cause damage to shingles which can result in leakages down the road)
Installation of new flashing in areas most likely to leak
New roofing layer is laid down
Worksite cleanup
Certificate of our Workmanship Guarantee for your records
Even though it might look fairly simple, putting up roofing in Richmond Hill is a bit of work and because of the risk our entire team is Fall Arrest Trained . Give us a call about how we may assist you today.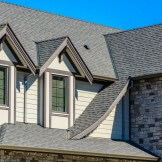 Background on Roofing
Taking care of your roof is very important as it can impact your life. If you do not take care of your roof and do not repair it when necessary, you may end up facing severe issues in the long run. Therefore, you must look for the professional roofing service for effective repair of your roof. By spending a few dollars now, you can save yourself from the future expenses that may add up to a lot more later on.
Our Roofing Materials
Roof Pro Plus Home Improvements South uses Owens Corning Shingles.
Owens Corning shingles get their rich color from a combination of colored granules. Using the colors of these granules, you can coordinate all of your home's exterior elements – the paint, siding, brick or stone. Click here to see the style that Duration® Series Shingles Designer Colors Collection can make on your home's aesthetics and observed value.
Recently Recommended…
I recently recommended your services to a friend of mine in Queensville. He needed roofing, soffit, fascia and downspouts. A big job. He just called me. He's thrilled with the job you did on his treasured home. Done in one day. He loved the quality, price, and not a speck of refuse left on his property. It makes me very happy that I recommended you to my best friend!
Testimonials
---
We had our roof done in 2009 by another company. By the fall of 2010 we had a water leak. We called in Roof Pro and they diagnosed the cause as improper installation of the ice and water shield material. They fixed it promptly, for a fair price and it is dry since. This Spring they came and looked at the rest of our roof to report on the ice shield and they did not even charge us. Frank Soule is that rare type in this business, fair, honest and does what he promises. I wish you had 11 star ratings!
I was overwhelmed with the number of roofing companies out there. I wanted to make sure that i hired a professional and reliable company that stood behind there work. I met with frank the manger. He was pleasant to deal with and very professional. Even though two of the guys quit before the job was complete frank was on top of it. It took two days longer then promised but with out asking he took a little off the price for the inconvenience. I would highly recommend roof pro.